Nov reševalno vozilo TOYOTA Landcruiser (NEW) 4×4 VDJ78L 4.5 V8 Ambulance - Complete with AL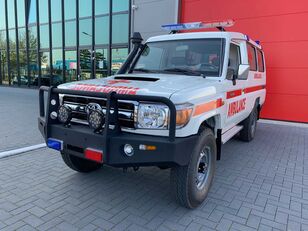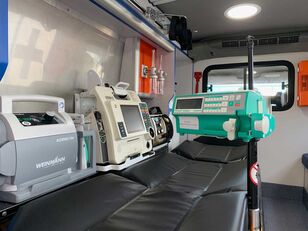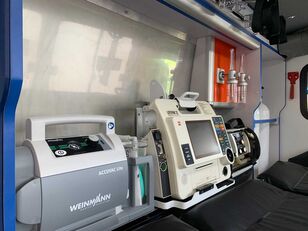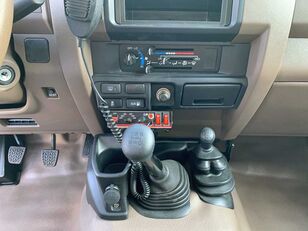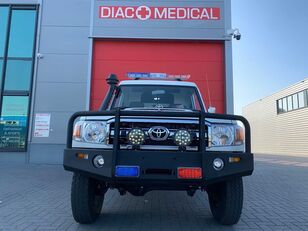 1/22
Prva registracija
2020-01-01
Lokacija
Nizozemska
Harlingen
Datum objave
več kot en mesec
Id.št. zaloge trgovca
20155
Kupi na lizing
Prejmi ponudbo za nakup vozila preko lizinga
Oddaljen pregled
Zahtevaj neodvisen tehnični pregled
Potrebujete dostavo?
Izračunajte stroške dostave
Type of body: Ambulance
Model year: 2022
VAT/margin: VAT not deductable (margin scheme)
Karosserieform: Rettungswagen
Modelljahr: 2022
Mehrwertsteuer/Differenzbesteuerung: Mehrwertsteuer nicht abzugsfähig (Margenregelung)
Type af karosseri: Ambulance
Modelår: 2022
moms/margin: Moms ikke-fradragsberettiget (marginordning)
Tipo de carrocería: Ambulancia
Año del modelo: 2022
IVA/margen: IVA no deducible (margen)
Forme de carrosserie: Ambulance
Année du modèle: 2022
TVA/marge: TVA non déductible (régime de la marge bénéficiaire)
New 2020 Toyota Landruiser 4×4 ALS Ambulance:

See vehicle specification sheet.

This ambulance has been equipped with a choice of medical ambulance equipment from our own stock. The ambulance is equipped with high end medical ambulance equipment. It contains a stretcher, monitor/defibrillator, ventilator, suction unit and many more accessories and must haves to be ALS patient ready. All the medical equipment is in Diac Medical refurbished condition/new condition and is completely checked, cleaned, serviced, calibrated and comes with a test report and 6 months warranty. The ambulance is patient ready for ALS services.

This ambulance is patient ready for Advanced Life Support (ALS), with the following equipment:

1x Stryker 6100 M1 Stretcher (REFURBISHED) and Trolley with belt set and matrass
1x Physio-Control Lifepak 12 Monitor/Defibrillator (REFURBISHED) with CO2, SPO2, NIBP, 12-LEAD ECG, AED and PACER comes with all applicable cables, bags, batteries, charger, defi-pad.
1x Dlouhy Wallbracket for Lifepak 12 (REFURBISHED)
1x Weinmann Accuvac Lite Suction Unit (REFURBISHED)
1x Weimann Accuvac Wallbracket with 12V charging cable (REFURBISHED)
1x Weinmann Medumat Standard Ventilator (REFURBISHED) with Modul Oxygen on Lifebase Mini Bracket, with reusable patient cable and O2 probe
1x Bbraun Perfusor Compact Syringe Pump (REFURBISHED)
2x Manta Ambulance Helmet with helmet holders (USED)

Other equipment:

Folding stretcher
Oxygen Cylinder with valve
Medical Regulator with flow meter and humidifier
Oxygen Mask
Oxygen outlet with piping and tubing
First AID Box
Stethoscope
Sphygmomanometer
Syringes 10 mm,5 mm,3 mm
Neck Collar Adult
Respiration Face Masks
Roof Mounted IV Hook
Sharp Container

The price shown is the price for the ambulance including the medical ambulance equipment on the list. If you need any more equipment or if you don't need medical ambulance equipment at all, feel free to ask for quotations separately.

SKU:
Brand: Toyota
First registration: 01-01-2020
Mileage: 0 KM
Fuel type: Diesel
Model: VDJ78L 4.5 V8
Engine Power: 140 KW -195 HP
Cylinder: 8
Cylinder capacity: 2987 cc
Max. weight: 4461
Transmission: 5-SPEED M
Emission class: Euro 3
Airco: Front and back

= Bedrijfsinformatie =

Your Specialist for High Quality Used Ambulances and Refurbished Medical Ambulance Equipment
World Wide Dealer Network | World Wide Delivery | Unique DIAC Warranty

DIAC MEDICAL specializes in the worldwide purchase and sales of used ambulances and refurbished medical equipment for ambulances. On request, ambulances can be equipped with either new or second hand medical equipment. If you are looking for a used ambulance, refurbished medical equipment or a fully equipped ambulance, then DIAC MEDICAL is the right place for you.

Why choose DIAC MEDICAL?
We only sell high quality used ambulances and refurbished medical ambulance equipment.
We guarantee an excellent customer service.
We offer worldwide shipping and transport. That is why many international companies regard us as a loyal and reliable business organization.
DIAC MEDICAL presents a wide range of used ambulances and medical equipment. We regularly add new products to our stock.

= Meer informatie =

Carrosserievorm: Ambulance
Modeljaar: 2022
BTW/marge: BTW niet verrekenbaar voor ondernemers (margeregeling)
Kształt karoserii: Ambulans
Rok modelu: 2022
VAT/marża: Brak możliwości odliczenia podatku VAT (procedura marży)
Тип кузова: Скорая помощь
Модельный год: 2022
НДС/маржа: Без вычета НДС (схема маржи)
Važno
Ta ponudba je samo orijentacijska. Prosimo, da se za natančnejše podatke usmerite na prodajalca.
Varnostna navodila
Kontaktirajte prodajalca
DIAC Medical
Jeziki:
nizozémščina, angleški
Nizozemska, Frizija, Harlingen, Hermesweg 15
Lokalni čas pri trgovcu: 02:40 (CEST)
Prodajate mehaniacijo ali vozila?
To lahko storite z nami!